Bizzy Boxes & Bizzy Mini Boxes
Our Bizzy Boxes are hands-on, creative, homemade play dough activity boxes, perfect for children to get BIZZY and get CREATIVE! We offer two different sizes. Our Bizzy Boxes are HUGE with three different types of play dough and many items to get imagination flowing!  Our Bizzy Mini Boxes are meant for on the go fun and come complete with play dough containers and lots of items to keep kids "bizzy"!  We hope our Bizzy Boxes and Bizzy Minis encourage memories of fun, play, and endless creations! 
Bizzy Mini Box Collection
---
Bizzy Paint Kit Collection
---
Bizzy Boxes Make Great Gifts, At Home Play, and Activities for playdates
Our Bizzy Boxes are unique, fun, and creative gifts for any occasion! The excitement and awe of opening their very own Bizzy Box is priceless and will give hours of endless fun. Every Bizzy Box includes three different homemade playdoughs and tons of distinctive toys and trinkets to make your child's imaginative world come to life!    
Shop Bizzy Boxes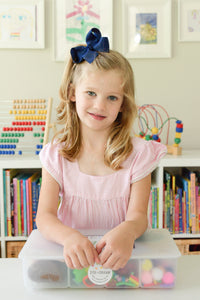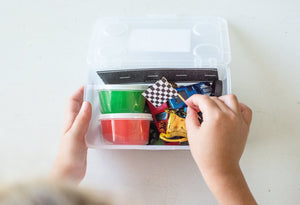 On the Go: Bizzy Mini Boxes
In our busy world, we are constantly on the go and needing something to engage our children while waiting at a restaurant, taking an airplane ride to see grandparents, or waiting at a sibling's sport practice! Bizzy Minis are the perfect solution! They are small, compact, and come with two different homemade playdough already in containers ready for their next adventure on the go! 
Shop Bizzy Mini Boxes
Bizzy Mats and Rollers
Our Bizzy Mats and Rollers are the perfect addition to any Bizzy Box or Bizzy Mini! They are a great solution to keeping your play dough area tidy and gives your child the space to get creative. Our Bizzy Rollers are the perfect size for little ones precious hands. Pick up yours today! 
Shop Bizzy Mats & Rollers